This week was one of travelling and celebration, and I didn't get a huge amount of quality running done, so only a short post this week.
The first portion of the week was filled with slow running, as I was still suffering slightly from the previous week's long run. I tried to put some miles in at tempo pace, but it wasn't really happening. I also gave interval training a miss on Thursday to further my recovery.
| Day | Distance (miles) | Pace (mins/mile) | Notes |
| --- | --- | --- | --- |
| Mon | 5.8 | 8:45 | with Andover AC |
| Tue | Rest |   |   |
| Wed | Rest (Badminton) |   |   |
| Thu | 3.6 | 8:19 |   |
| Fri | 2.9 | 8:50 |   |
| Sat | 3.1 | 6:46 | Barry Island parkrun |
| Sun | 5.6 | 8:16 |   |
Total: 21.9 miles, 3 hours 1 minute
On the weekend we travelled down to South Wales for my cousin Sally's wedding. As usual when we visit family, we partook in a spot of "parkrun tourism". There are a number of parkruns near my parent's house, but my mum normally does Barry Island parkrun, so I joined her on that.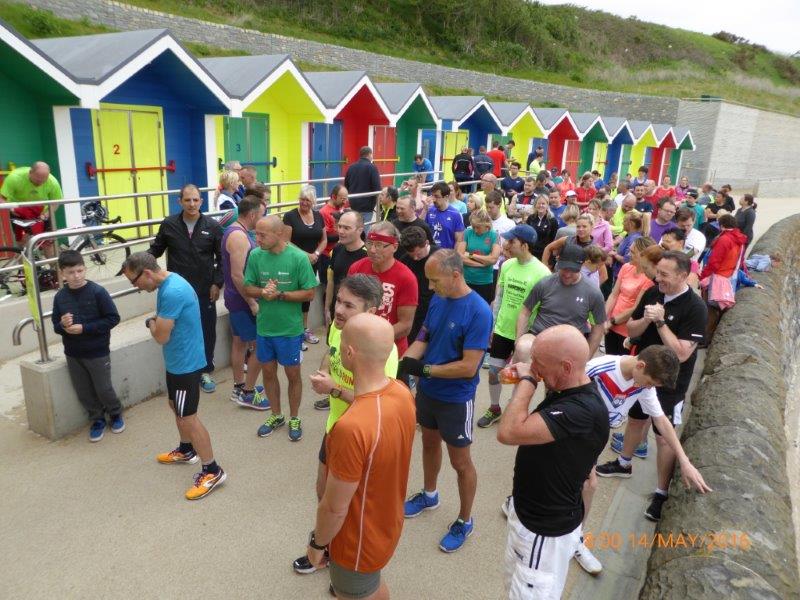 Gathering on Barry Island promenade. Photo credit Barry Island parkrun on Flikr
After going out for a meal with the family the night before, and having a few glasses of wine, I wasn't feeling confident about running quickly. The course is very hilly by the standards of most parkruns, and usually my legs feel very heavy on uphill sections after drinking the night before. However, I continued the tradition of running well in Barry after drinking the night before (my previous parkrun PB was set at Barry after a few gin and tonics). Despite feeling rather unwell on the last mile, I kept a fast pace up and managed to get a new parkrun PB, at just over 21 minutes!
I was pleased with the run, and it was just a small part of a really great weekend. It's nice to reduce the amount of running I do on a weekend every now and then, especially when there's a reason to celebrate.
If you want to see more details of these runs and runs from previous weeks, check out my Strava profile.
Tags: running training report parkrun barry island parkrun